Happy Friday!

Last Saturday I posted about doing Fit Friday with Missy & many other lovely ladies! Everyone is gettin'
Hot for the Holidays
!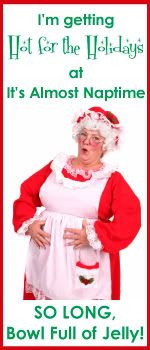 My week was "cut short" because I was in Wisconsin until Monday, so I'll post about how the week went from Tuesday 'til this morning. Let's see.....

Tuesday: Ran 3 miles outside/used free weights/ab exercises
Wednesday: 30 minute Pilates video
Thursday: Interval training on treadmill for 25 minutes/used free weights
Friday: Honestly....I haven't done anything yet today....I was going to get up early to workout before work, but then sleep got in the way. ;-) After work, I plan on doing the Pilates video again.
I did alright on the H20 drinking - 2 extra glasses a day, but still need to add at least one more.

So that's my week in review! All in all, I did pretty well. Go here to Missy's blog to check out how all the other "hotties" are doing!

Wups, look at the time - I need to get ready for work!!

One more thing....is there an exercise or workout that YOU do that you love or swear by?? Or one that you want to try out?? Please share!