Dear Chocolate,

I see you so often in the grocery store and at the gas station. Most of time, I do not invite you over to my home....instead, I give you a glance of longing OR simply act like I don't see you at all. Rude, I know.

And then a certain candy-crazed holiday rolled around and you found yourself sitting on my counter. Just like the kiddos, you came in costume. Dressed up as Snickers. Milky Way. Twix.

You were both a

trick

AND a

treat

. You tasted so

yummy

and because you were labeled "mini" you

tricked

me into eating quite a few of you.

I love you. Your smell. Your taste....

...but it is time for you to leave. I won't be inviting you over for a while. I'm trying to get
Hot for the Holidays
. You're yumminess is standing in my way.

Don't be too upset if I act like I don't know you in the check out lane.

Unfortunately Yours,

Rachel

-----------------------------------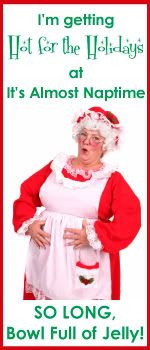 I'm back for Fitness Friday, Week 2!

As you can tell from the letter above, I was a bit chocolate crazed over the weekend, but I am now back on track. :-)

I did ok with the workouts this time around.
* Ran outside 3x (about 2 miles each time)
* Did Pilates video 2x
* Used the free weights 2x
* Only did Interval training on treadmill 1x....need to do better on this next week!

I think this next week, I'll incorporate another fitness video. Still working on keeping up the H20 drinkin'.

So that's about it for me! Head on over to It's Almost Naptime! to find out how all of the other lovely ladies are doing.